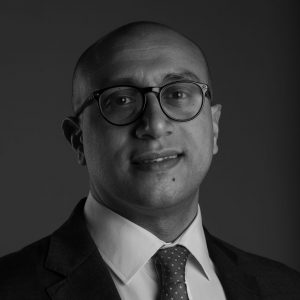 Ahmed Bakry is a judge at the Commercial Court of Abu Dhabi, UAE after being seconded by the Egyptian Government. Prior to his secondment, he served as a legal adviser for the Egyptian Cabinet at the Ministerial Committee for the Settlement of International Disputes. Before becoming a full-time legal advisor in the Egyptian Cabinet of Ministers, Ahmed served as a judge in various Courts – including Civil Courts, Commercial Courts and Family Courts.
Judge Bakry spent a substantial part of his professional life as a public prosecutor in several Egyptian districts. He served in several positions under three Attorneys General. During his services, his responsibilities spanned the work of the Public Prosecution, included direct supervision, investigation and prosecution of several criminal cases such as organized crimes, white collar crimes, murder, assault, domestic violence, homicide, financial crimes, cyber-crimes and on-line fraud and money laundering.
Since 2015, Ahmed has showcased his track record as a commercial arbitrator taking on complex matters with state entities, construction, real estate companies, pipeline manufactures and hotel management corporations. Judge Bakry is a certified arbitrator at the Egyptian Ministry of Justice.
Judge Bakry presents as a lecturer and speaker at many national and international conferences on several topics that include criminal justice, child rights, human rights, money laundering, international cooperation in criminal matters, legal aid, public international law, communications law and arbitration. He has been invited to speak to organizations including The Hague Conference on Private International Law (Child Rights), Cairo Regional Center for Commercial Arbitration (International Arbitration and Dispute Resolution), EuroMed Justice (Child Rights and legal aid) and Center for International Legal Cooperation in The Hague.
Judge Bakry has made numerous academic contributions in several subject areas of law such as human rights, women's rights, criminal justice, legal aid, investment and commercial arbitration, public international law, company law and commercial law.
Ahmed's current work at EuroMed Justice Programme includes serving as a senior short-term expert supporting deliverables of procedural rights in international criminal cooperation, electronic evidence and confiscation, and freezing of assets. Since 2016, Ahmed has supported EuroMed Justice Programme on several other projects including co-authoring EuroMed Comparative Study on the "Application of International Norms on the Best Interest of the Child."