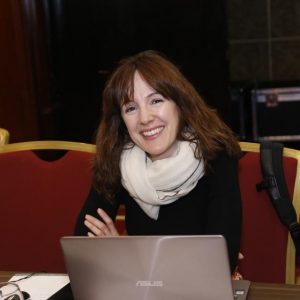 Miriam Bahamonde Blanco is a Spanish Senior Public Prosecutor, specialized in international legal cooperation and cybercrime. Currently, she is working as an advisor at the Ministry of Justice of Spain in the Directorate-General for International Legal Cooperation and Human Rights, where she represents the Ministry of Justice in the specialized committee against terrorism of the Spanish National Security Council and in other CT groups at the Council of Europe and UN level.
She is also member of the T-CY Bureau and she has been the Spanish representative in the negotiations for the II Additional Protocol of Budapest Convention. In addition, she took part in the meetings of the Expert Group to Conduct a Comprehensive Study on Cybercrime (UNODOC IEG) and she is coordinating the upcoming negotiations on the Ad Hoc Committee to Elaborate a Comprehensive International Convention on Countering the Use of Information and Communications Technologies for Criminal Purposes.
She has collaborated with different cooperation projects, specially in the field of countering terrorism and organized crime, such as CT Mena or El PAcCTO.
Moreover, she has carried out some in-depth studies reflected in various articles and publications, specially in the field of the relationship between data protection and criminal investigation.